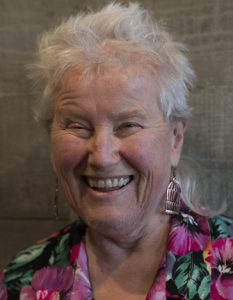 Angela – I was early in my life acculturated to cohousing as I am one of 10 children in a large farm family from North Dakota.  In my teens I decided to commit to the Benedictine community of nuns and their intentional community; but it wasn't quite me to be celibate for life, I decided.  So, I continued teaching and then came to California where I completed my master's degree in cultural anthropology.  As I met my future wife, I always wanted a large house where we would rent to friends and make community; she had witnessed how much work that could be and so we bought a small house in Berkeley.  So, when her mother needed extra care and couldn't make it up our 8 stairs, we thought, "Oh dear, that will soon be us" and started searching for cohousing.  Coming from a large family I wanted multigenerational co-housing but we finally
settled on senior cohousing at Phoenix Commons due to the care and attention we give to each other in the community.  I know committing to a relationship was primary for me but dipping into cohousing was the best decision I have ever made for all the daily joys and challenges it brings to me.  I assist with membership, landscaping, common space and social events tasks which help me to sharpen my interpersonal skills and utilize my experience and talents for the community.
Read More...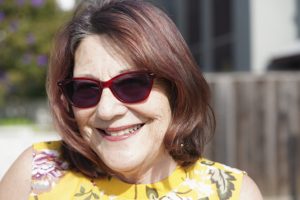 Bea – I was born and raised in Oakland, CA.  I attended schools in Oakland and married following my graduation from high school. I had two sons and during my 3rd pregnancy I decided on a homebirth. My daughter was delivered by midwives. Loving the birth process I attended midwifery training in Santa Cruz, certified as an EMT, served as an apprentice midwife in Berkeley, volunteered as a doula with Kaiser Hospital, and was one of the founders of the Bay Area
Guild of Midwives. I attended many births over a period of 30 years.
Living most of my life in the Oakland Area, I acquired a home on Galindo Street, overlooking Sausal Creek in the Fruitvale District. In 1985, during an extremely wet winter, half of my property slid away. Despite this, my home was the center for many of the healing arts.  These included many women's rituals, art circles, and a meeting place for family and friends. It also housed "Lorena's facials" owned by my long-time friend from Brazil.
I sought a spiritual life working in social services at the Oakland Jewish Community Center, the Aquarian Institute and retiring as the Human Resource Director after a 25-year career at the Berkeley-Albany YMCA. I dedicated my work toward service to children and building a healthy community.
I was the first women member and the first woman president (1995-96) of the Berkeley Lions Club.  My path of self-growth incorporated practices of the ancient Jewish Kabbalah, Wicca, Tarot, Women's Rituals and beloved 12-step programs.
I was an avid gardener, zydeco dancer, and traveler.  Later, as aging made it more challenging to do these activities, I turned toward art (weaving, and especially Soul Collage).
In 2021, with Covid in its 2nd year, my children suggested that I look at other living situations.  Seeking active friendships during this time I sought out a co-housing community.  I still wanted to be nearby my children and grandchildren. My research led me to Phoenix Commons. This condo unit is in the same zip code as my previous home, yet closer to Alameda, where one of my sons and his family live. The mix of gardening area, estuary wildlife, and Jingletown artistry fit my visual esthetics.   Moving into Phoenix Commons was a "no-brainer!" My neighbors are now an array of active aging dancers, gardeners, artists and like-minded individuals.
Read More...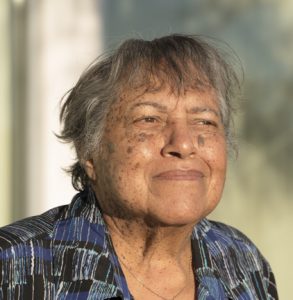 Bettie – I was born in San Francisco and grew up in Alameda from the age of 5 and currently reside there since 2006. I retired from Alameda County Social Service and started a second career as a travel consultant. I have traveled extensively and love meeting people and doing new things. I belong to a public service organization of college women where I have held various offices and done volunteer work.
I look forward to this new adventure and being in on the "ground floor" of Phoenix Commons. There is a lot more to know about me. Come join us at Phoenix Commons so we can become new friends!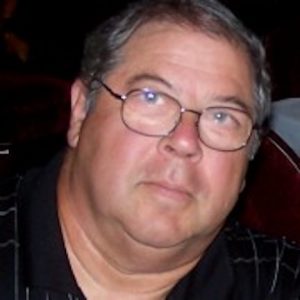 Chris – Future Phoenix Commons member (home owner) along with wife Darnelle. Chris & Darnelle are also part of development team and owners/managers of work for Alameda Elder Communities. We have worked in health care for seniors for over 40 years and this project is where we want to retire to. We believe the cohousing/cooperative community model is the best way to achieve a sustainable and fulfilling community life. I have built other large buildings before (Waters Edge Lodge and Elders Inn) and am a licensed administrator and hold a health care admin degree and an MBA. Darnelle is an RN trained at UCSF.
Although we have extensive experience we plan on being just members and trust the process of community development and management by all involved on an equal basis. We believe that a sustainable community can only be achieved if all have an equal say and contribute equally in both financial and participation terms. We look forward to building a community with our fellow neighbors.
Read More...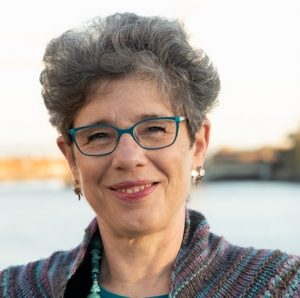 Carol –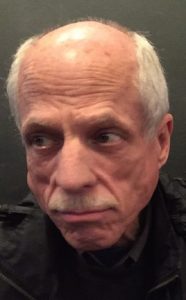 Craig – Born 1948 in Washington DC. Lived in the DC suburbs until college, eventually opting to specifically study areas of interest (music, photography) rather than go for a degree. Learned a few instruments, some blues, jazz, and classical composition; still playing keyboards, mostly by ear. Took photography classes at Corcoran School of Art in DC, worked at a photo studio for 4 years. Moved to the Bay Area in 1978. Played in rock bands, wrote some incidental music for a few small dramatic productions. Got a certificate in data processing at UC Berkeley Extension and worked as a programmer/analyst for Levi Strauss & Co for 20+ years. Retired in 2006 or thereabouts. Began engaging in occasional political volunteering. My political views are somewhere in the neighborhood of Bernie Sanders / Elizabeth Warren. Moved to Phoenix Commons in 2019, seeking a socially supportive community environment – I think I made a good choice. Currently volunteering as a reading tutor nearby at Garfield Elementary School.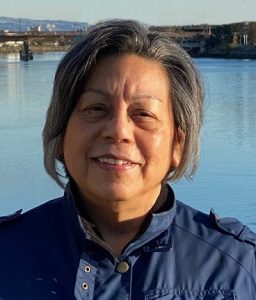 Darlene –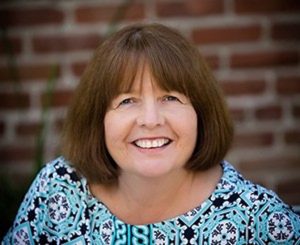 Darnelle – Darnelle is a graduate of University of California, San Francisco, School of Nursing. She has worked with Chris, her husband, since the early years of Alameda Elder Communities (AEC) and is the driving force behind AEC's excellent care programs. Her expertise is in the development and maintenance of the health care component of AEC. Under her direction, all care providing members of AEC have been recognized for superior care. Up until recently, when she gave up management control to the local hospital, Waters Edge
Nursing Home enjoyed more than four years of 5-star status from the federal Medicare rating system, an honor only achieved by the county's top 10% of nursing homes.
Darnelle's function on the development team is to provide cost effective health care delivery and monitoring systems, to help the members of Phoenix Commons achieve optimum health. She believes that if people are to age successfully at home, they must have good monitoring systems and facilities & staff available to assist when needed. Darnelle's foremost contribution to the development team is to help facilitate the achievement of a truly "universal design," one that incorporates not only physical or architectural amenities, but also social and medical systems meant to seamlessly support individuals in their desire to remain independent throughout life.
Read More...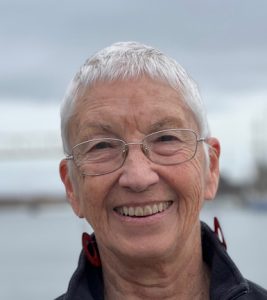 Diane – I grew up in Southern California, the oldest of four kids in a working class family in a college town. I earned a scholarship to Carleton College and spent 30 years in Minnesota. Having unwisely majored in Art at Carleton, I spent the next 10 years in miscellaneous jobs, from costume apprentice to telephone installer. At that point, I decided to try a more practical path and returned to the University of Minnesota for a Bachelor of Mechanical Engineering degree. That led to 10 years at IBM, working as a facilities engineer, a systems engineer, and an engineering manager. My partner of 20 years and I spent our time camping, hiking, cross country skiing, birding, and generally being outdoors as much as possible.
After we split up, I had the opportunity to change careers. In 1996 I moved to the Bay Area and became a technical writer for Wind River Systems, retiring from there 18 years later. There I met Bill, and we've been together for 25 years. We lived in a floating home for most of that time, enjoying the community and the closeness to the Estuary. After we retired, we were able to spend some time traveling in our RV. Eventually we decided that we needed fewer stairs and docks in our lives, but more community. Phoenix Commons was the wonderful solution we found and we're loving our new view of the Estuary and our new community.
Read More...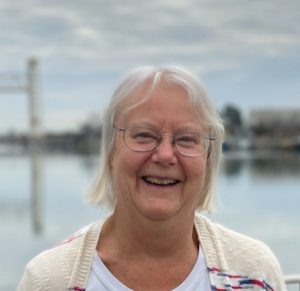 Ebba – I grew up in rural Sweden. My father was a Lutheran pastor, a spiritual man. My mother was a teacher and mostly ran our household with a huge garden and with guests staying for long periods of time. She also was a pacifist all her adult life and an organizer in various women's organizations, especially within the church. I have three older siblings.
I left home at age 13 to go to Middle School, and later High School in a town only 20 miles away. Because of difficulties with public transportation, I rented room and board from an old lady and came home on weekends and vacations. This made me both independent and very responsible.
After high school graduation, I got a scholarship to go to Augustana College in Rock Island, IL. I came to the US by boat, 8 days across the Atlantic in 1964. Because I was placed as a junior, I had no graduation requirements and could choose whatever class that took me in, American literature and history mostly and I never set foot in the gym!
I met my sweetheart at Augustana, but I went back to Sweden and got my Teologie Kandidat degree at Uppsala University. We got married and I moved to Chicago. Worked for a while in a library, later in Campus Ministry in Davis CA. Eventually became ordained as a Lutheran pastor, but soon realized that I was trying to be my father, and I am not. During chaplaincy internship I discovered physical therapy and understood that was my calling. It took 8 years before I got there, but it has been a great journey to work with people of different ages and abilities and finally ending up focusing on manual therapy, treating clients with my hands touching lightly.
I lived 36 years in WI. After 25 years of marriage, my spouse David became Debra. It was a joyful occasion. The depression and anger that had increased steadily over the years just evaporated and we had 12 more joyful years together before she died of kidney disease.
I moved to the Bay Area in 2016 to be close to my daughter Lisa and her two children, whom I adore and play with, when I have a chance.
Moving to Phoenix Commons and becoming a part of this community is a wonderful gift for this time in my life.
Read More...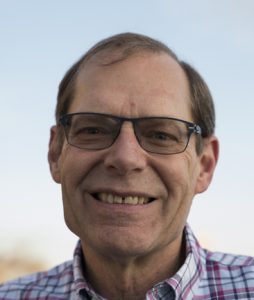 Greg – I grew up in Dayton, Ohio and was able to go to Purdue University in Indiana through the Navy ROTC program. After completing my service obligation with tours in Puerto Rico, Spain and Port Hueneme, California, I obtained a master's degree in Civil Engineering with a specialty in Water Resource from Stanford. Over the years I have been able to have a role in the planning, design and construction of a wide variety of challenging water projects. My specialty has been small hydroelectric projects and design of new or seismic retrofits of dam spillways and outlet works. I have been transitioning from full time to part time and in 2022 expect to complete my last major project, construction of a new tunnel and outlet system for the Newell Creek Dam for the City of Santa Cruz.
I lost my loving wife of 35 years to stomach cancer in 2016. We lived in a tiny bungalow in Oakland until our 2nd son was born, then moved to Alameda which was home for over 30 years. We found the small town vibe and sense of community to be the ideal place to raise our two boys. With one son in Nashville and the other married and on the Peninsula, it came time to move to a smaller place. I wanted to move to a development with a supportive community, where you could participate in group activities but still have privacy when needed. I watched Phoenix Commons be constructed when crossing the Park Street bridge on my bicycle commute to downtown Oakland. When investigating whether co-housing would be a fit for me I was happy to find the community welcoming, well run and a place where everyone finds a way to make a contribution. I moved to PC in March, 2017.
In my niche on the landscaping and gardening team, I continue to satisfy my need to work the soil by growing fruit, vegetables and herbs for our common meals. I am also active on the physical plant maintenance team and was very happy to have been able to oversee the installation of a 60 kW solar system on the roof that provided 88% of our common space electricity in 2019. I enjoy bike riding, stand up paddle boarding, kayaking and hiking through our state and national parks. My other hobbies and interests include duplicate bridge, travel and world affairs.
Read More...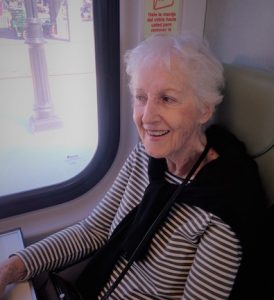 Harriet – Over many years as an English teacher and speech and debate coach in suburban San Diego, I really worked hard during the school year and then spent summers traveling through Europe with students and friends. These trips were so much fun and allowed me to know my students as friends. We'd have three intense weeks taking classes on foreign campuses and studying, most of the time, but after that we would travel around, giving me the opportunity to indulge in one of my favorite pastimes: filling up my sweet teeth.
From plain chocolate whole meal biscuits in Cambridge, Mozartkugel in Salzburg, gelato in Rome, halvah for breakfast in
Tel Aviv, Swedish fishes in Stockholm, "strawbreez" and cream in St. Andrews, Harrod's basement full of riches in London, baklava in Haifa, cinnamon ice cream and hot apple pie in D.C., we all agreed it was a "plethora of riches" (a new phrase they learned while licking their lips).
Read More...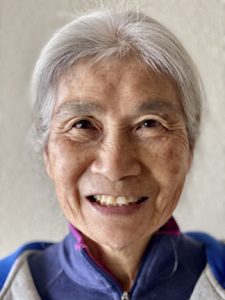 JoAnna – My acquaintance with intentional community comes through Heathcote in Maryland, Camphill centers for disabled adults, and living on a college campus for three wonderful years. We also belonged for six years to a CSA (community supported agriculture) as charter members where I enjoyed contributing work hours in the gardens.
I retired from high school teaching in 2007 (physical sciences and math). Our three children have lived in the Bay area starting in 1999. My interests include the outdoors, woodworking, knitting, gardening, and what I call improvisational cooking (glean the markets, check out the fridge and pantry, and be creative). I also enjoy exploring ethnic cuisines. I am elated that Phoenix Commons has a dock. I now have an Oru Kayak, my first ever owned. We still hope to play bridge more regularly.
Five major factors in my background are the Peace Corps (Malaysia), wooden yurts, experiential education, meditation, and kayaking. I am able to continue my work with those incarcerated via a meditation course I developed called The Kindness Project, traveling to Milpitas on Sundays. My philosophy is "live simply that others may simply live" such that I have had my eye on Tiny Houses for years. Downsizing to move to PC fit well.
Read More...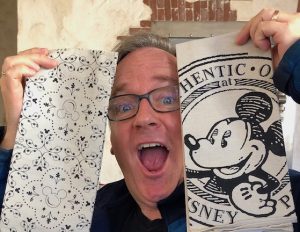 Jonathan – After living in Alameda from 1999-2015, I am very happy to be part of the Phoenix Commons community. I grew up in Colorado and after completing a Bachelor of Music in Vocal Performance moved to Orlando for eight years and from there to NYC for four years.
After 13 years of performing in musical theater, cruise ships, and theme parks, I followed inspiration and applied to Pacific School of Religion in Berkeley. I received a Master of Divinity in Spirituality & the Arts and then taught InterPlay locally and regionally. I have worked in healthcare since 2004.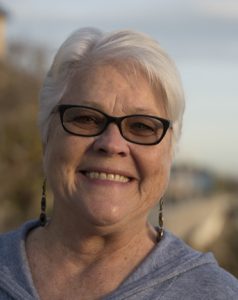 Jyoti – I grew up surrounded by Indiana corn and soybean fields in a family of six children. My Purdue college career was interrupted when I unsuspectingly got a job as a flight attendant with Pan American World Airways. I worked for Pan Am for 14 years, living in three bases of NYC, Boston and Honolulu. I got to travel to many exciting places around the world, across both the Atlantic and the Pacific.
While living in Honolulu for 10 years, I went back to school and finished my undergrad degree in Comparative Religion and my Master's degree in Social Work. While attending classes full-time at the University of Hawaii, I also worked full-time for Pan Am, flying on the weekends to cities in the Pacific area. For several idyllic, rainbow-filled years, I had a mango tree in my backyard. I mean…. could life have been better?
As an ex-flight attendant, I moved to Phoenix with my husband and two small daughters. After our divorce, I moved back to Indiana with my girls to live near extended family. We lived in Indianapolis for 26 years while the girls grew up, attended college and moved away. During that period, I worked as a Medical Social Worker and a School Social Worker.
My oldest daughter and her husband found their way to Oakland and set out to bring both of their families here as well. They got their wish as both entire families, including my other daughter, moved to the Bay Area to join them. I now have five grandchildren, who, of course, provide me with great joy! 
I joined Phoenix Commons from Indiana and attended meetings via the internet for a few years while it was being built. After retirement from being a School Social Worker, I moved directly into PC in July 2016. I worked as a Medical Social Worker for several years, while enjoying hiking, biking, kayaking, gardening, solo camping and traveling internationally. I am now retired and have more time to pursue my other interests. I've been fortunate enough to have traveled in the last few years to Southeast Asia (Thailand, Cambodia, Laos and Vietnam), China (and Tibet) and to several countries in southern Africa (South Africa, Zimbabwe, Zambia, Botswana and Namibia) for safari. My next planned trips include traveling to Costa Rica, Nepal, Bhutan and India.  
Bottom line is this: Living in cohousing was an easy decision for me and it's one that has enhanced my life immeasurably.
Read More...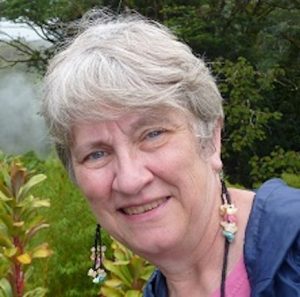 Karen – Growing up in WI, and after going to college in MN (where my global horizons were expanded after studying in Africa and Asia), I intentionally moved to the Bay Area 50 years ago, to pursue theological studies in Berkeley. It was especially the ecumenical and social justice (including feminist) emphases that drew me– i.e., to transform church and society. Ordained as the first woman to pastor a Lutheran congregation in the western two-thirds of the U.S. (here in Oakland), I subsequently did a doctorate in NYC, taught in Chicago, Dubuque and elsewhere in North America, was well as speaking and leading processes in many contexts. Working
churchwide, I directed the development of the first social statements that shaped the public voice of the ELCA, and then for over a decade lived in Geneva, Switzerland, directing the global theological work of the Lutheran World Federation. I met many interfaith and ecumenical leaders (including at least one pope). Through many consultations, much travel, and numerous writings, my perspectives were constantly being transformed.
My husband Bill died in 2016, after we had moved into Phoenix Commons, and our son Aaron has moved in with me from Europe. I continue to like traveling to many places around the world, reading a lot on what is now occurring politically, writing that is contrary to many common assumptions of the day, engaging the challenges we now face here in Oakland and beyond, going on long walks (especially with my dog Enzo), as well as going to area events and concerts (classical, folk, jazz).
Read More...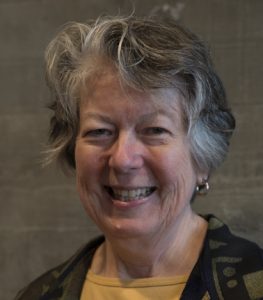 Kate – I am a Valley Girl: born and lived 12 years in San Fernando Valley and then Santa Clara Valley. The roots of my being drawn to co-housing include being a nearly only child (my half-sister mostly lived with her mother), my parents' preference to buy-fix up-sell houses in a slower version of flipping, where we changed neighborhoods and I changed schools often, and the inherent isolation of suburbia.
I went off to a Catholic girls' boarding school as a high school sophomore just as the Vatican II changes were being adopted there. I became fascinated with the long history of women's religious communities. Later volunteer work brought me into contact with
more communities. It was not my calling, but I learned a lot that affects my perspective now at PC.
At the same time, I was discerning my own orientation through serial relationships with women and men. I married/divorced/remarried/re-divorced the same man. Then I met Angela. In 2020 we will celebrate 29 years together and our 12th wedding anniversary. We found home with each other.
We learned about co-housing by accident when a friend living at Doyle Street, Emeryville, invited us to a community dinner. We joined the East Bay Coho meet-up. The national co-housing conference came to Oakland in 2012. We visited Silver Sage in Boulder, Colorado and Wolf Creek Lodge in Grass Valley, California. We joined the core group at PC in July 2014 and moved in March 17, 2016.
All the while I was an attorney in a small firm and then solo practice since 2000. Angela joined the practice as my paralegal in 2006, after years at UC Berkeley. We will likely work for another few years.
Finally, we've buried 5 parents between us which taught us a lot about choices in aging.
Read More...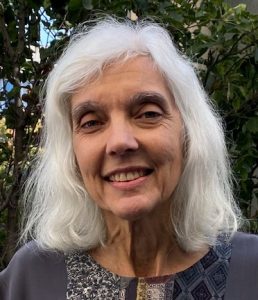 Kathryn – I was born on the Texas/Mexico border, and have Mexican and German parents.
After graduating from the University of Texas, Austin, I decided to spend a summer in the International House at University of California, Berkeley.  That experience had me meeting and learning from people all over the world.  And it prompted me to do post-graduate work at U.C. Berkeley: first in Linguistic Anthropology, then in Law, and then in Public Health.
So after all that "learning," I decided to do a year backpacking in Europe. Low on funds, but high on expectations and adventures!
There I met a man named Niels, who taught at Denmark's School of Architecture.  We spent some time together, and he later came to visit me when I spent six months working and learning on an Israeli kibbutz.  Later, I spent another six months living with Niels in Aarhus, where we were married in Denmark's historic walled town of Ribe.
After Niels decided to leave his position in Denmark, we two were now able to live together long-term, and even on the same continent!  Back in the Bay Area, I worked first as a lawyer, and later as legislative staff to the California Senate.  After some time, I left the Senate and directed several health-related projects involving major drug companies and public hospitals.
Niels passed quite unexpectedly in 2020. My family now includes two children living in the U.S., Niels' daughter in Denmark, four grandchildren to date, and of course siblings and cousins.  I enjoy playing piano or marimba, being active in my small church congregation, singing, and learning new skills and ideas.  As my long time sticker from Armadillo World Headquarters in Austin, Texas proclaims:  Onward and Upward!
Read More...
Kathy (KP) – I graduated from the University of Wisconsin-Lacrosse in 1974 as an Art Major with a minor in Philosophy. When my father died in 1978, I took the train to join college friends in San Francisco. I worked for many years with Thermal Fusion Inc. doing heat treating and brazing. I helped make parts for the Hubble Space Telescope and the Linear Accelerator at Stanford. For the latter project we rebuilt 10 feet of the huge instrument during and I led the brazing process. My last job was as a skilled technician at Rolls Royce Engine Service before retiring to take up the full-time responsibility of Security at Phoenix Commons, which suits me well. My partner, Julie, and I and our doggies (Penny, Ruby and Ted) have been residents at Phoenix Commons from almost the beginning.
I am an active bike rider, weightlifter, handy woman, dog whisperer, dancer, rebel for a cause type person.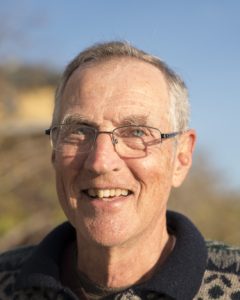 Ken – I was born a Yankee but grew up in a small Florida town, a geek just athletic enough to escape a "nerd" label (although I never quite matriculated to "jock"), and a liberal conventional enough in behavior to escape a "subversive" label. A handful of degrees allowed me to work as an Assistant Professor a few years then an IT Director for too many years. I've served in a variety of voluntary organizations of the type that make you president as soon as you're willing to do any work. I've taken up piano late in life, covertly practicing when I can do so without alienating passing music lovers who might otherwise believe me to be a reasonable human being. In retirement, I occasionally write essays with sociological and political themes, with the ultimate aim of impacting climate change. (The route may seem indirect, but we must exploit any possible routes.) My private passions are books, tennis, and dark chocolate.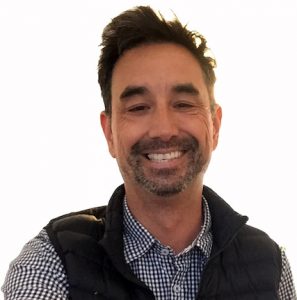 Kenji – I was raised in Massachusetts in a counter-culture bi-racial/bi cultural community organizing 1970's progressive household.
I spent the first half of my life in the Boston area as a student, small business owner, HIV/AIDS activist. Moving to San Francisco in 1993 I joined a non-profit specializing in culturally competent HIV prevention to Asian & Pacific Islander communities. Since then I've been a student, small business owner, and artist. I spend my time, now, at Phoenix Commons, working part time as a life and business coach for entrepreneurs with ADHD. I'm a community Dharma teacher,
mentor, and artist. I write some, perform with a gay Asian writers' group, and do the occasional graphic design piece. I've been dreaming of co-housing since 1999 when I came up with the idea of living in community. I'm thrilled to have found Phoenix Commons for its diversity and care.
Read More...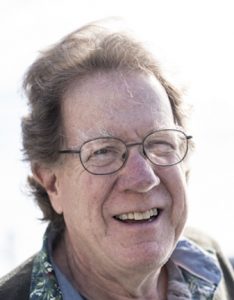 Larry – I was born in the small town of Crookston in northwestern Minnesota, fifth of seven children of a professor of horticulture and a schoolteacher. I received a degree in journalism and English from the University of Minnesota before hitchhiking to California, arriving in San Francisco in 1980 and immediately finding it to my liking. Personal experience and a college job with the Minnesota Coalition for Terminal Care inclined me to look up opportunities in hospice care when I arrived in San Francisco. Starting as a phone volunteer and then patient care volunteer, staff secretary, office manager and PR coordinator for the newly formed Hospice of San Francisco, I developed a lifelong interest in hospice care and how it could be done better. I have been a freelance medical journalist for more than three decades, largely writing about
hospice for professional newsletters and magazines (and a book published by Little, Brown), but also pain management, palliative care, hospital medicine, advance care planning, aging issues generally, rheumatology and therapeutic health care gardens.
I met my future wife, Rose Mark, at a poetry workshop at Wilbur Hot Springs. We attended a lot of poetry readings together before we started dating. We were married in 1998, with Rose catering the reception bringing together two large families (including her children Shawn and Stacey) and lots of friends. Shortly thereafter, we spent a one-year stint in Washington, D.C., where I worked at the National Hospice and Palliative Care Organization, before returning to the Bay Area and settling in Alameda before buying a house in Oakland's Maxwell Park, site for many grand parties. Our wonderful grandchildren, Osirus and O'Shea, came along in 2008 and 2012, and our feisty Shepherd mix, Maggie, in 2009.
After 11 years, we downsized and stumbled into the planning for the Phoenix Commons cohousing community starting in 2013, joining the first wave to move in when it opened in March of 2016. Rose spearheaded the development of our community meals program as Dining Team chair and I pushed for the Wellness Team to advance the community's ongoing conversation about aging well together. Our interests today include cooking and the foods of the world, all kinds of world music, European mysteries, the You're Going to Die Literary Salon, regular participation at the Bay Area's flourishing poetry open mics, and recent travel to Turkey and Spain.
Read More...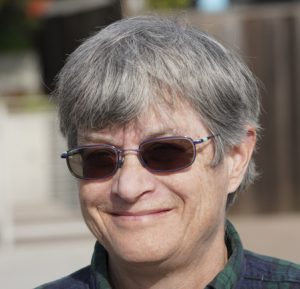 Leslie – I have been swirling around California most of my life. Born and raised in southern California; I migrated north to attend college at UC Santa Cruz; took a detour through Europe for a couple years (France, Germany & Belgium) and landed in San Francisco. I spent 37 adventure-filled years in the Bay Area. The covid pandemic made me realize that I was very isolated in my small condo and needed a more active community. I heard about Phoenix Commons from a friend; at a time when I was ready for the next step in my life. After visiting and talking with current members, I moved in.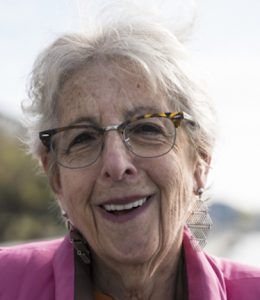 Lynne– I was born in Queens, NY in 1941 and lived there until I left for college in 1958. The college, Antioch, had a huge impact on my life because in addition to studying liberal arts on campus, I worked off campus for three to six months periods around the country and in France. I graduated in 1963 with a French major and a teaching certificate.
My jobs were mostly in the social sciences: at a settlement house in Philadelphia, at a child development center in New Haven, and in a psychiatric ward in a Boston hospital. I also worked as an au pair and as a maid in a castle in France.
I met Peter at Antioch and we married the day after my graduation. We moved to NYC for a year before settling down in Minneapolis where we lived for 53 years. We raised two daughters there and had rewarding and interesting careers. Over the years, I taught English and French and English as a Second Language to refugees and immigrants and international students and scholars at Macalester College, and at the University of Minnesota where I went to graduate school.
I also taught English internationally in China, Vietnam, India, and Cuba. In preparation for retirement, I trained as a life coach and now have a very small coaching practice with clients from other countries.
We moved to Phoenix Commons in July 2019 and are both very happy here. I feel like I am living in beautiful, small town where the people are friendly, very interesting and kind. I love waking up in the morning, leaving my apartment and greeting my lovely neighbors. I also love being near Nina, our eldest daughter, who with her family, including two grandkids, live in Berkeley. Our youngest daughter lives with her family in NYC and visits when she can. That's hard on us all.
Read More...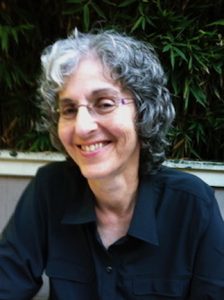 Mady – It took me nearly half a century to find the intentional community I was looking for in the Bay Area. I had been looking ever since I left my hippy commune in Boston in the early 1970's. Along the way, I found a full life in the lesbian feminist community and the Jewish community, building bridges between different cultural, political, and generational groups.
During those years, I worked as a paralegal on civil rights cases, as an x-ray tech and an MRI tech, as a legal editor for investigations of civil rights violations, and as a facilitator of conflict resolution and group process for organizations and individuals. I became a black belt and head of a jujitsu school for women.
I found amazing friends and community. Still, I mostly lived alone, or with roommates and/or partners. And now, so many years later, I finally found Phoenix Commons! I love nesting here in my own condo on the waterfront – and I also love working and playing together as part of this engaging, supportive,
and very fun living community.
Read More...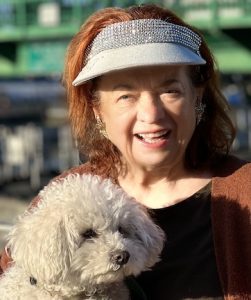 Marisha – Mo Town was to me, a glamorous city. It had the trappings that I loved: libraries, Detroit Art Institute , live theatre , U of D, Wayne State University and across the Ambassador Bridge, Windsor Ontario! Those things still exist now but in diminished luster.
After graduating from Denver University, I spent a year in Washington, DC doing grad work. So for most of my life, I have sought out big cities and eventually, the Big Apple.
I worked in theatre for a good 20 years, writing comedy, touring and dubbing Italian Spaghetti films in Rome. After marrying I relocated to California which seemed like a foreign country to me. With a certificate from Case Western I pursued fundraising for NPO's here. I have
volunteered all my life with non-profits, recently reaching 35 years with Landmark Education Worldwide.
I have been blessed to be able to participate in some great event fundraising with The Hunger Project, Grace Cathedral and the Institute of Noetic Sciences while I earned a M.A. from the Graduate Theological Union in Berkeley. You guessed it. California is no longer foreign to me; it's home! And after 40 years in Sonoma County, I can now embrace Alameda County as home and specifically the most uncommon, Phoenix Commons.
Read More...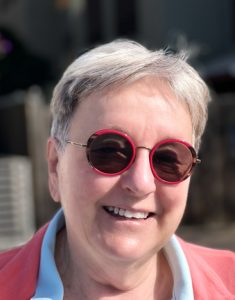 Nancy – My family seem to be wanderers.  My Dad's side came to the US in 1632 on the William and Mary and slowly headed west through the Minnesota area on to Washington, then to California.  My Mom's side came to California on a covered wagon, took the southern route and ended on a Spanish land grant in what is now the San Bernardino area before heading to Oakland.  Some great uncles headed to the Alaskan Gold rush and one plied his trade on a sailing ship.  I am a fourth generation Californian on one side of the family.
My wanderings were, at first, with backpack trips through the Sierras, a summer on the Tahoe-Yosemite trail and a journey through the Sawtooth range in Idaho.  Then later in life I traveled for work.  Work took me throughout Europe, China, Japan, SE Asia and India.  It has been a
profound learning experience.  It was also through work that I met and married the love of my life.  We have two sons and two grandsons between us.
It was my husband that decided he wanted to ride motorbikes again.  We took the Motorcycle Safety Training course then both got a couple of 650s with raked forks and would wander the sierras and up and down highway 1.  Our last mega-trip was on Vespas from Aptos, across highway 50 to Ely, NV, then back on highway 6 through Tonopah, over the Tioga Pass and back home.  Highway 6 and 120 in Nevada are really "the loneliest roads in America".  I was 60 at the time.
Work is in the semiconductor industry.  It is still somewhat fun and has been deeply satisfying but I can sense retirement in the wind.  Don't think that I am quite finished with wandering though….
Read More...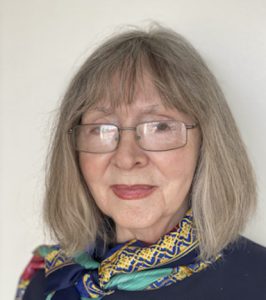 Patrice – I am a mom, a grandmom and a widow. I moved to Oakland after my beloved Don had gone to the great beyond, so that I could be close to my son and grandsons.
I am also a retired Regional Vice President, Operations for a national mental health management services organization, following almost 30 years experience in health and hospital administration and mental health administration, and serving many years on boards of directors including board officer of a community hospital and board member, community health system.
I have had the good fortune to have directed the collaborative development and implementation of over 40 programs for children
and youth in Westchester County, NY for which I have twice been awarded the National Association of Counties Achievement Award for successful products researched, developed, and implemented.
After I retired, my focus became on worker illnesses and deaths, worker toxic chemical exposures, and the workers' compensation system of injustice; resulting in several papers and one book.
Now I am a life story writer, and hope-to-be painter. I continue to be an activist, while I also enjoy spending time with my son and grandsons, trips to museums, plays, opera, and activities with my new friends here at Phoenix Commons and in Oakland.
Read More...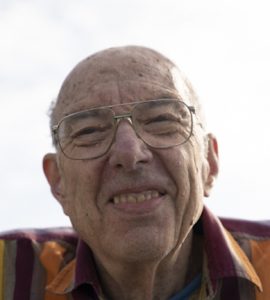 Peter – I was born in New York City in 1939, and lived there with my parents and younger brother. I attended city public schools until enrolling in 1957 at Antioch College, Yellow Springs, Ohio, where I majored in history. As part of Antioch's work-study program, I enjoyed paid work as a cabin counselor supervising California public school kids attending overnight nature camp; assembled and mailed UNICEF Halloween fundraising materials at the United Nations in New York City; performed copy boy chores at the New York Times, and was employed as a Pennsylvania newspaper reporter. During a break from Antioch in the 1960s, I also worked as a newspaper reporter in Ohio.
For a brief time in 1961, I also helped a former New Deal administration official arrange his personal documents in preparation for his planned memoir. This work was discontinued when I was arrested and jailed with Freedom Riders on an Alabama-Mississippi trip to integrate southern bus terminals.
I later received law school and graduate journalism degrees and was employed by newspapers and the Minnesota Attorney General's Office during two separate careers during a combined total of 32 years of employment. In addition, I helped implement a federal court consent decree awarding compensatory damages to African American farmers improperly denied farm credit by US Government discrimination.
Lynne has written about our family life so I won't repeat it.
We moved to Phoenix Commons in July, 2019 to be near our daughter, Nina and her family, and to live in a community. Also to leave the cold, icy Minnesota winters. We both enjoying living here, where the people are friendly, active, very interesting and kind.
Read More...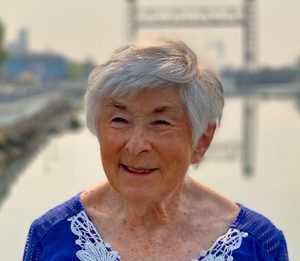 Robby – After graduating from law school I had the opportunity to engage in a variety of legal issues while raising our five children. Upon retirement, I moved to California in 2007. Since then I've been active in wide variety of "senior" and other community organizations in The Bay Area; an officer or board member of the Center for Learning In Retirement, Mastick Senior Center and the League of Women Voters – Alameda. I'm a certified [volunteer] counselor with HICAP [Medicap Insurance] and the AARP Tax Aide program.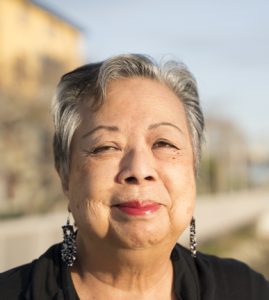 Rose – I am a writer, food maven, performer, dancer, grandma, wife, and eternal explorer of whatever life brings me. I grew up surrounded by music and love all types of music. I am curious and am blessed to have a just as curious husband, Larry, exploring all the wonders of life with me. We love dancing to zydeco music despite our two left feet.
I have a large community of close friends outside of Phoenix Commons. I have a large family of six siblings, countless nieces, nephews, a grandnephew, grandnieces, and cousins. I have two children – a son and a daughter – and two incredible grandsons. The icing on my magnificent cake of life is my Phoenix Commons family of neighbors whom I have grown close to through our daily interactions, meetings, dinners and parties.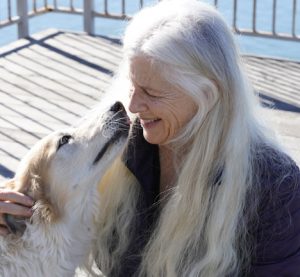 Sherry –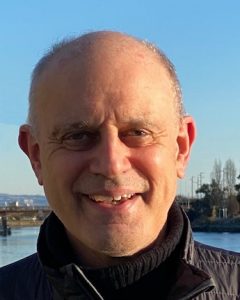 Steve – I was born in Detroit and still have roots there through family and the first part of my education. I also share a common Michigan experience with my wife Darlene, having first met her while we were both attending related programs about Japan. Believe it or not, we met in a Classical Japanese Literature class! Even though this early part of my life was grounded in Michigan, almost all my adulthood has been spent in the Bay Area when I moved here after a year teaching English to Japanese Businessmen in Tokyo.
My first job after moving to the Bay Area was in commercial banking and I ended up staying in banking for two more decades, advancing to the VP level providing financial services for all types of businesses. Finance stayed a part of my life through various teaching opportunities
even after leaving banking. I currently teach finance at a Conservatory of Music and co-facilitate business accelerator programs for artists through an organization providing support services for all types of creative artists.
I delight learning about different cultures particularly through food and all forms of the arts. There are many artists living here at Phoenix Commons as well as creative cooks who prepare our common meals.
Another theme that brings great pleasure is being in nature, particularly being around water and hills, all aspects that are available here to enjoy, particularly being next to the Estuary and having views of the East Bay hills from the windows in our unit. My daily walks convening with nature are a key part of my life.
Life-long learning is another theme that helps to describe who I am. I love learning particularly about how we as humans make sense of the world around us through the arts, through the built environment, the economy, and through our social and business systems. I even took on the rigors of a doctorate in Organizational Psychology after the almost 2 decades working in financial services. I loved every part of that educational experience. The diverse community here offers more stimulus for my love for learning particularly as I get to know other resident's histories and participate in this co-housing community.
Read More...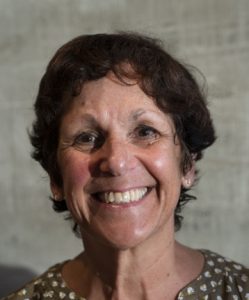 Sue – I learned about Phoenix Commons on a Sunday afternoon at the movies in September 2015. Attracted by the location and building design, it was meeting the other members that clinched the deal. Within ten days I sold my Castro Valley condo, moved into a local waterfront hotel, and never looked back.
As one of the original three to move in, we celebrated our first night with pizza & champagne and continue to enjoy what I fondly refer to as my adult dorm life on the Oakland estuary. In fact, the original trio traveled to Chamonix, France in September 2017 for my first Sierra Club hiking adventure.
This amazing location has inspired me to participate in activities within walking and cycling distance of our lovely waterfront community. In addition to being within a few miles of my two adult daughters and volunteer activities at a local non-profit, I've recently added kayaking and dragon boat racing to my list of favorite activities that include impromptu walks to dinner, listening to music, and going to the movies with friends.
I enjoy the variety of options available for meeting our volunteer hours. For instance, my preference is to wash pots & pans and pay bills (in my current role as HOA Treasurer) while reaping the benefits of the many talented cooking and gardening resident experts.
Read More...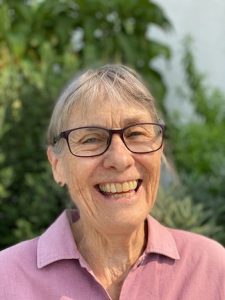 Susan B – I was born and spent most of my childhood in Oakland before heading to Reed College. After a couple of years at Reed, I graduated from Cal with a degree in anthropology. In the early 1970's I had two children, one with multiple disabilities. Due to my interest in disability law, I completed a paralegal program at St. Mary's College. I accidentally became involved in Berkeley software companies, eventually co-founding one in 1984. My work involved dealing with acquisitions, legal issues and project management.
Later my husband and I moved to the Big Island of Hawaii, where we lived for 15 years on the side of Mt. Hualalai. I enjoyed growing mac nuts, tropical fruits, and vegetables on our acre of land. After my husband's
death, I returned to the Bay Area to be closer to my family. My daughter is a veterinarian, my son lives in a small group home in Union City, and I love to hike and travel with my granddaughter Lucy. I was lucky to hear about Phoenix Commons, and I joined the community in the spring of 2015. I participated in planning the community prior to moving in a year later. I have formed close friendships with my neighbors, and the community continues to evolve as we grow in size.
Read More...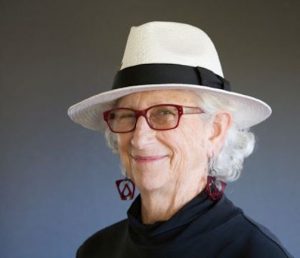 Susan H – I grew up in Scarsdale NY and left as soon as I could. I didn't fit in. I attended Northwestern University graduating with a degree in literature. After several years I finally landed in the Haight Ashbury in the sixties. The best time to live there. I started graduate school hoping to get an MFA in Photography but life took a different turn. So, I dropped out and Roger and I moved to New Mexico for a year with other hippies from the Haight. Eventually, with encouragement from Paul Hawken, we moved to the Boston area to study macrobiotics. After several years in Boston
where I cooked for a macrobiotic household, we headed to LA where we bought a school bus and traveled around the country meeting with farmers and checking out natural food stores. After 5 months on the bus with by then two children, we ended up in the Texas Panhandle where Roger worked for Arrowhead Mills and I co-wrote The Deaf Smith Country Cookbook. However, Texas was not the place for us so we moved to Santa Cruz, CA where we fit right in. By then we had three kids and eventually divorced! I returned to school, got a Master's in Library Science at San Jose State University, and started working for ETR Associates, a nonprofit formerly part of Planned Parenthood. We ran the California AIDS Clearinghouse and other programs. After 17 years at ETR, I retired and started seriously studying photography.
Forty years later, I moved to Oakland to be closer to my children and grandchildren. After checking out several senior living residencies I happened on Phoenix Commons and knew it was the right place for me. I love being in a community where I can be with comrades and still have time to myself.
Read More...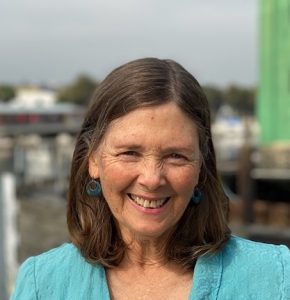 Theresa –
Phoenix Commons drew me in before the building was even completed. Interested in the dynamic of living simultaneously alongside others while having my own private condo, I had been contemplating creating cohousing in the town where I was living prior to moving to the Bay Area.
Now – 7 years later – I can say from experience that I appreciate both the stimulating challenges and the creativity involved in co-creating a living environment that supports healthy aging.
It's laughable that I'd imagined that we'd somehow "resolve" every issue of group living in the first few years! Being a growing community of thoughtful, strong, competent individuals, we continue to evolve as a community. I consider myself extremely fortunate to live in a place that challenges me to keep my brain active and, as Lin- Manuel Miranda says, my "heart open" and my "compassion on full blast."
I love living walking distance from Alameda which provides great walking and biking, an excellent health food store, good restaurants and bakeries, cafes, a movie theater and regional theater, and a beautiful beach on the San Francisco Bay where I hang out and swim in the summer. More diverse Oakland has many neighborhoods with opportunities for dining and activities. I also frequent Berkeley and San Francisco. The Bay Area has so much to offer in terms of nature experiences ~ great parks and botanical gardens, as well as world class museums, music, theater, and dance. I partake of all of these.
Movement of all kinds has been a passion since childhood. I am a trained Kripalu yoga teacher and taught yoga and meditation classes at the University of Wisconsin, and in private studios in Wisconsin and CA for years. In 2019 I graduated from the five-year Spacial Dynamics Institute in upstate New York which included circus arts, gymnastics, sports and various types of movement and dance. I bring several kinds of movement opportunities to Phoenix Commons. Recently I have taken up pickleball.
I grew up outside Chicago, went to high school in upstate New York, and college and graduate school in New England. I have lived in Scotland, New York City, Westerns Massachusetts, Milwaukee, Los Angeles, and near Yosemite before settling here in the East Bay at Phoenix Commons.
Professionally, I taught in Waldorf and public schools (Parent – Child classes, Nursery, Kindergarten and Grades 1 – 5) in private, public, rural, and inner-city school settings. I retired from full time classroom teaching in August 2020 due to COVID, though I still lead an outdoor Parent – Child class weekly and mentor Kindergarten teachers. Monday through Fridays I am with my two granddaughters when they get home from school and taking them to various lessons and team practices. It's a "job" I treasure.
Read More...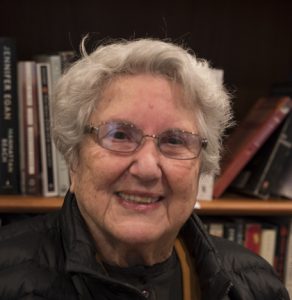 Carmel Hara (July 7, 1931 – August 10, 2020) – Born and raised Jewish in Lebanon a great many years ago.  Educated in French schools, and still have an accent.  Immigrated to the U.S. in '49 under the Family Reunification Program as older siblings were Texas-born.
Was fortunate to have two children, a daughter in Barcelona and her husband who have one daughter, a son and his family in Albany, CA who has three children.
My last job at UC Berkeley was in History of science and Technology.  I always made more of my job than was in the job description, enjoyed it, and was acknowledged for it while also
enjoying the noon concerts on campus, the exercise classes, the lectures in open classes.  Early retirement came along with downsizing, which gave me the opportunity to visit Cameroon where my son-in-law was Peace Corps director, South Africa and Madagascar where I fell in love with lemurs.
The next phase of my life came in April 2016 when I moved to Phoenix Commons to my great benefit.
Read More...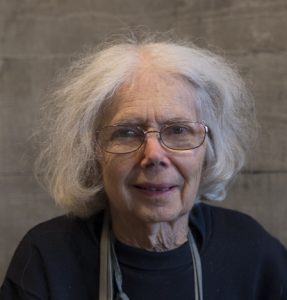 Patricia – I was born in 1943, during World War II, the second of six children. My father was soon drafted and transferred to Alabama for basic training. From Alabama, we headed to Fort Lewis near Tacoma, Washington, where my father was to join a troopship for the invasion of Japan. But he missed the boat because of car trouble, so we went to California where he had officer training. Young officers had short lives span. As troops landed on the beaches, the Japanese aimed for the soldiers with a star on their helmets. But the A-bomb ended the war and we settled in Tacoma, where I grew up in a large Catholic family. I was a good student, but the nuns encouraged all the girls to enter the convent, which my sister did, but I had no desire to
become a nun. She later left the convent and came to work at Coca Cola, doing very well. (Management figured if I was a good worker, my sister would be too!)
My parents had a large house with the largest yard in the neighborhood, and my father put up play equipment. There were always lots of friends to play with. My father bought me a pony, which made me the envy of the neighborhood.
I met my ex-husband, Peter, a student from Hong Kong, at Seattle University, where I studied chemistry. This was during the Vietnam War when every young man was trying to avoid the draft, so we got married. Since he was Chinese the wedding was a big draw at my parents' church. Then, we headed by train to Michigan State University where Peter earned his PhD.
When Peter finished his PhD, the war was still going on, so he did post-doc work at NYU, and I got a job with the Coca Cola Co. in Manhattan. I hated living in the Bronx, so when Coke decided to move the lab to their headquarters in Atlanta and offered me a very good package to move, I jumped at the offer and moved down South. A Coke executive thought it was a hardship for me to be down in Atlanta by myself, so without talking to me, he offered Peter a job at Coke in Atlanta. My two sons were born just two years apart in Atlanta, and then we were sent to Cambridge, England, when Joseph was just an infant. Peter worked on translating old Chinese texts for a Chinese expert at Cambridge University for a year paid for by Coke. This largesse by Coke helped establish connections for Coke to re-enter the China market. Peter was then transferred to Hong Kong, and my sons grew up there. And it was here that I taught them both reading and math before they entered school. And in Hong Kong, I enrolled them in a private school with multiage classrooms where they both did very well, as well as in Atlanta to which we moved when they were in 3rd and 5th grades. It was in Hong Kong that I first experienced Australian racism.
It was Coca Cola's policy to send American employees back to the U.S. once a year. We would exchange the tickets home for tickets going to some part of the world we had never seen. I particularly remember the biking tour in Germany. We lived in Hong Kong for seven years, before returning to Atlanta.
When my sons went off to college, I became interested in co-housing (I was involved with five co-housing communities), and I worked with a developer to get Eastlake Commons built. The community was a project of a group of Quakers and became a vibrant community with many children. I was one of the first members, so I was involved in drawing up the original documents, and I met each member as they arrived. I had good friends at Eastlake, and I lived there for about 25 years.
It was during this time that Peter offered to send my older son, David, and me to Australia to visit Joseph my younger son, who was doing a summer program on the Great Barrier Reef. David and I went out in a glass bottom boat, and I got very seasick, but David enjoyed the trip. There is nothing worse than sea sickness. As we traveled in Australia, I again experienced Australian racism as I felt their disapproval when I explained David was my son, not just a friend.
My sons did not want to live in Atlanta and moved to the Bay Area. They told me about Phoenix Commons. At that time there were only six other members. I decided to move here to be closer to my sons, their wives, and my three grandchildren. I enjoy many things about co-housing, especially the community meals we share together and being social with other members. My dog, Dizzy, enjoys watching (and sometimes barking) at the other dogs that walk along the Bay Trail invading HIS territory.
Read More...